Living Legacy Tree & Bench Information
Program Basics
For more information contact:
Nicole Loayza | 254.953.5653 |
[email protected]
Commemorate an event or loved one through the perpetual growth of a tree. The City of Harker Heights LIVING LEGACY program has been designed to meet most any need.

Memorialize a loved one
Celebrate a graduation
Recognize the accomplishments of an individual, group, or organization
Celebrate the birth of a child
Commemorate a wedding or anniversary
Establish a tradition
To purchase a tree
To purchase a tree, visit the Harker Heights Recreation Center (307 Miller's Crossing)


Living Legacy Days will be held on:
3rd Saturday of February – registration will open at 10 am on December 1 of the year prior
1st Saturday of November (Texas Arbor Day) – registration will open at 10 am on June 1 of the same year
A limited number of trees will be available for planting. Locations and tree types will be decided by Parks and Recreation staff. Registrants will have the opportunity to choose a site/tree type based on availability. The cost to register is $250.
A certificate will be created, and the honorees of these items will have their stories featured on the Living Legacy page of the Parks and Recreation website.
The tree will be planted, mulched, fertilized, pruned, and watered as needed by Harker Heights Parks & Recreation. If the tree dies within the first year, it will be replaced once at no additional cost. Replacement trees after one year must be repurchased by the registrant.
Parks & Recreation will not accept requests for tree types or locations outside of the options available at registration. Each site and tree must be carefully considered for its long-term success and to ensure that it will not impact park patrons or environment.
Please remember a tree is a living organism and can develop a disease. Trees are exposed to weather elements and vandalism. If you notice the weather elements or vandals have damaged the tree, please contact the Parks Department immediately. Do not remove any tree.
We do not allow the placement of decorations, notes, and/or ornaments or mulch to be placed on or around the tree or bench.
Register Your Existing Tree Online
Register Your Existing Tree Online
Changes to Living Legacy Tree Program
Removal of plaques in front of trees

We now have nearly 400 Living Legacy trees within our park system. To ensure that the trees in our parks retain the look and feel of nature for future generations, the plaques will be removed. We understand that these trees are special, and we will look to improve maintenance standards to extend the life of each tree.

Removal of non-living trees

Trees that were planted over 12 months ago will not be replaced by program policy. If you would like to replant a tree, the $250 will be incurred by the donor. If a tree is no longer living but was planted less than 12 months ago, contact us at 254-953-5657.

Creation of Living Legacy page on Parks & Rec Website

Trees will now be planted on 'Living Legacy Day,' held twice per year

3rd Saturday of February

1st Saturday of November

A limited number of trees will be available for planting. Locations and tree types will be selected by Parks & Rec staff. The cost to donate is $250.
Are you ready? Go to https://harkerheights.gov/legacytreeinformationform to get started.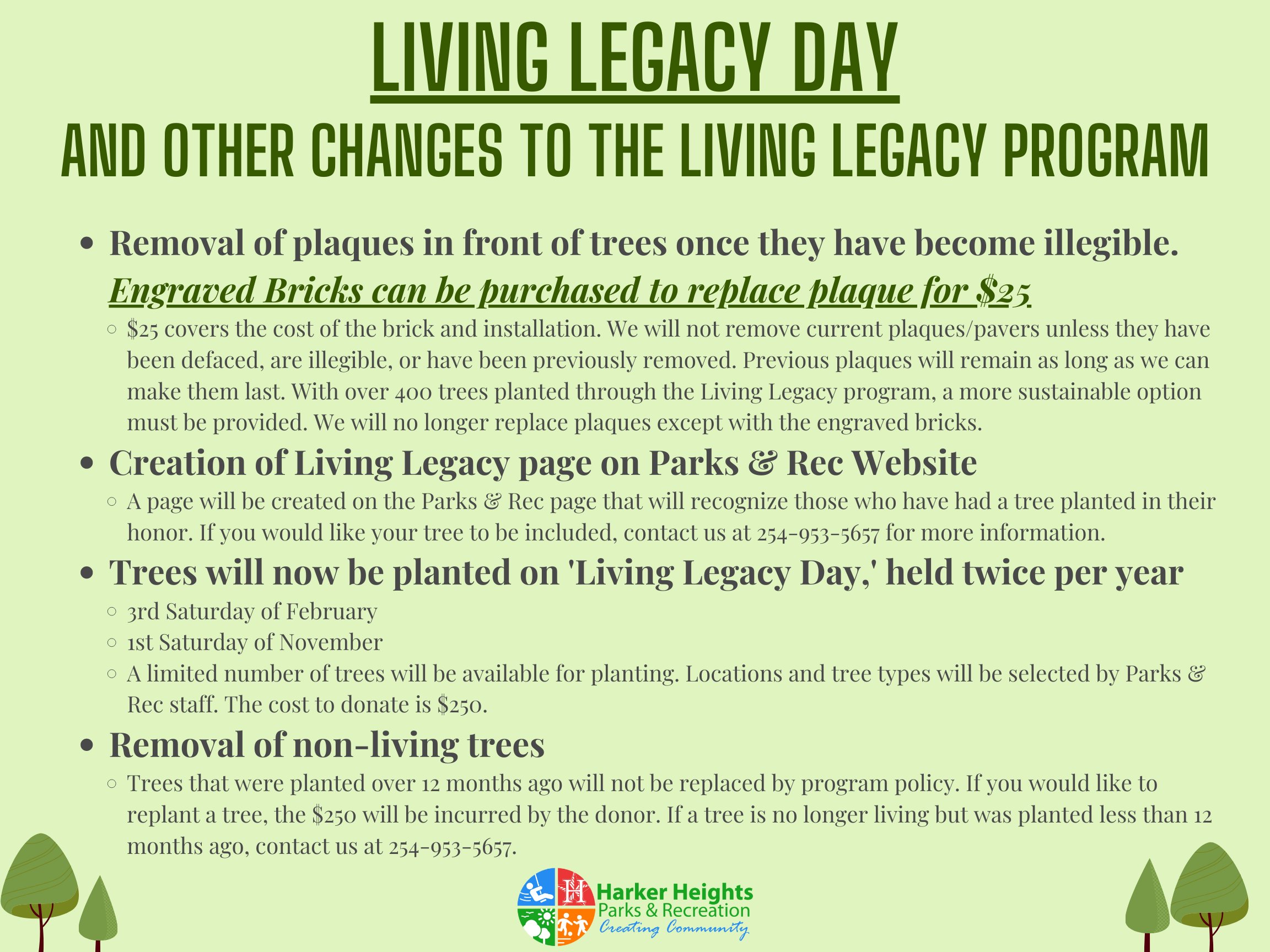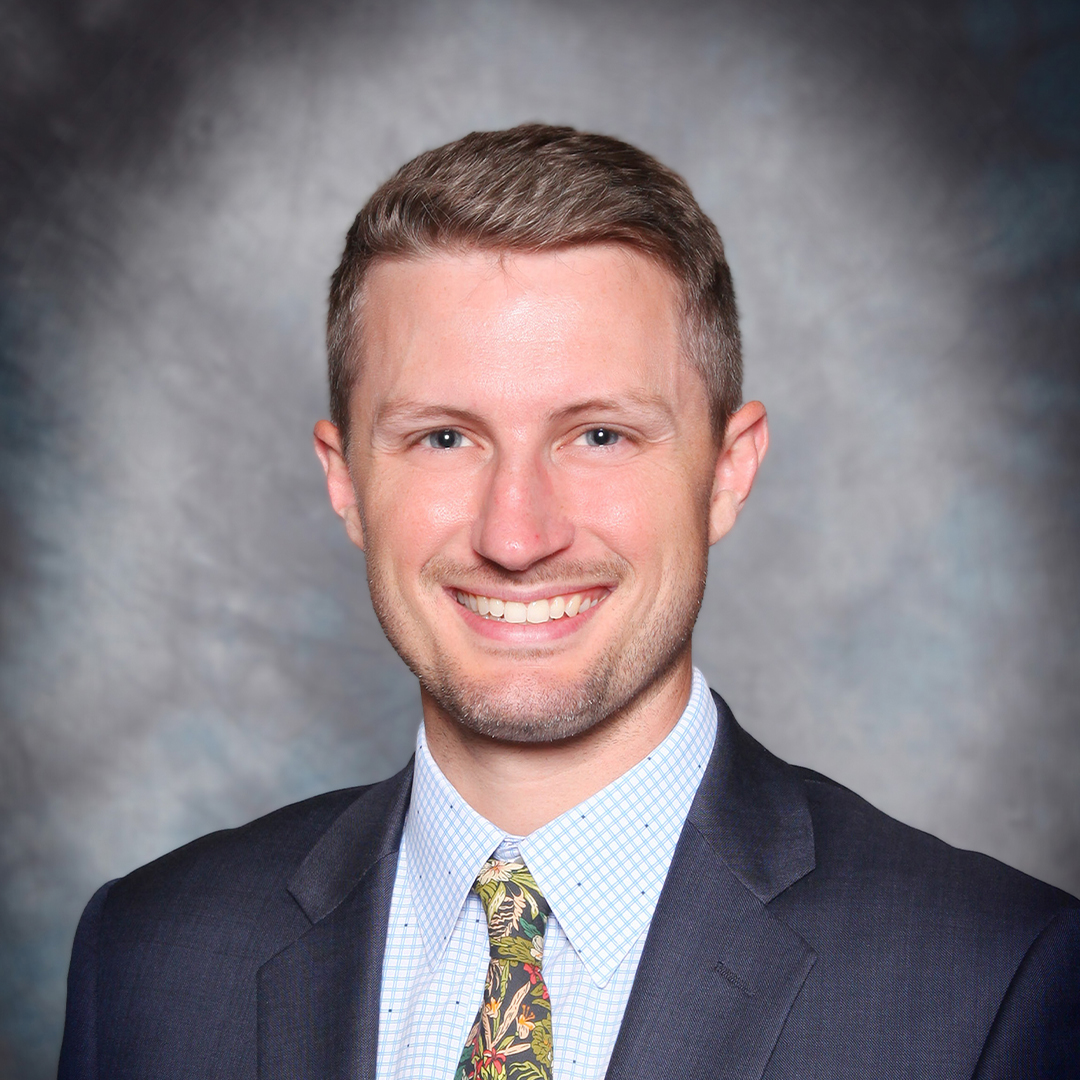 Our Vision
To Create Community through People, Parks, and Programs.

Our Mission
To provide community enrichment opportunities through exceptional customer service and innovative programs, and by creating and maintaining attractive, safe, clean, accessible, interconnected parks and facilities.
Contact Us
307 Miller's Crossing,
Harker Heights, TX 76548
P 254.953.5657